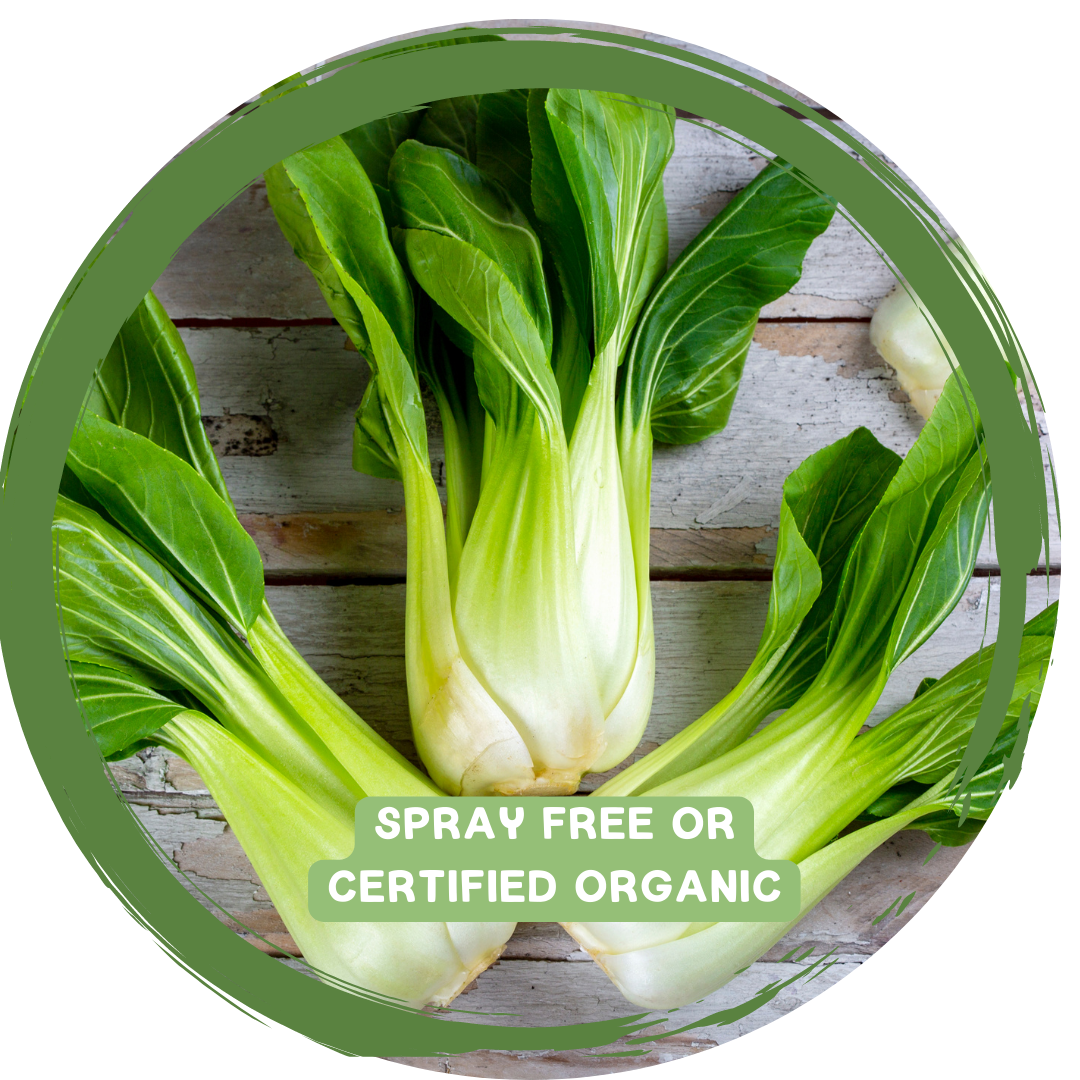 Choi (Bok/Pak) - Certified Organic or Spray Free
Sale price
$6.00
Regular price
Choi (Bok/Pak) - Certified Organic or Spray Free
Sale price
$6.00
Regular price
Product Info
Delivery Information
On the Farm! 
Depending the time of year, Bok Choi/Pak Choi is available on our own certified organic farm, or from our friends at Mini Farm project in Samford Brisbane (a spray free farm using organic growing methods). 
Crunchy, delicious and Certified Organic Bok Choi (aka bok choy) grown by Good Harvest Organic Farm. Bok Choi is one of the most popular Chinese veggies and it is also part of the celery family. Bok Choi can be used in soups, stir-fry, grilled, roasted, or left raw. It's a great way to add a slightly bitter, buttery crunch to your meals.
Bok Choi is at it's most abundant in the cooler months July – October. 
Nutritional Info & Storage Tips
A great source of fibre, vitamins B6, C and K, minerals, nutrients and antioxidants. Bok Choi helps with proper blood clotting, cleanses the body of toxins and strengthens concentration.
Choose firm Bok Choi stalks without brown spots and fresh leaves. Avoid wilting leaves.
To store: Cut off any yellow leaves. Store wrapped loosely in plastic bag (or a Green bag) in the refrigerator.
To freeze: Cut the stems from the leaves and chop to desired size. Store those separately. Cut the leaves into ribbons or squares or keep whole. Store separately from stems. Bring salted pot of water to a boil. Boil the leaves in boiling pot of water for 90 seconds. Douse in ice water to stop the cooking process. Drain the leaves and squeeze out moisture. Place in freezer bags, removing as much air as possible. Put in freezer. Blanch the stems separately for 2 minutes. Douse in ice water and drain before packing into separate bags
Delivery charges vary depending location, with a minimum order value of $60.
All deliveries are made Thursdays or Fridays depending your postcode.