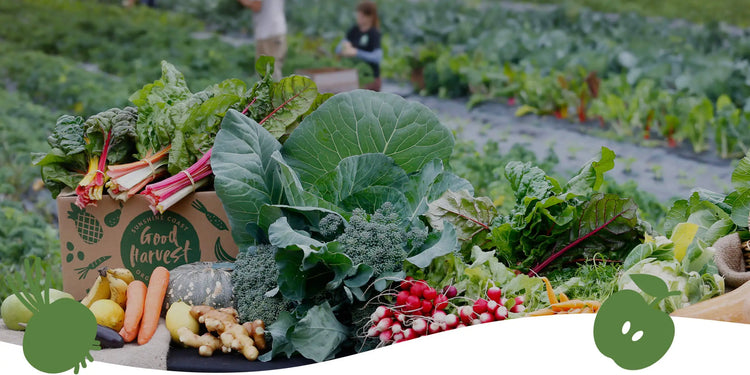 Curated for you from our seasonal produce range
Seasonal Boxes
From $77 or subscribe and save 10%
About our Seasonal Boxes
Our seasonal boxes offer produce that has been carefully curated from our farm and other organic sister farms. This option is most similar to a traditional CSA box. Curated for you - offering you the best value, direct from the harvest – sit back, relax, simply set and forget and we will take care of the rest! Ideal for those who:
want a variety of seasonal produce
don't want to log in weekly to make changes to their order
love creating meals with what's in season
want to support their local farmer and eat more of what they are growing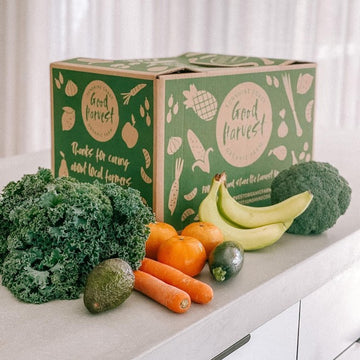 Frequently Asked Questions
What sizes are available in the Seasonal Boxes?
The Seasonal Box comes in four sizes, Medium Veggies, Medium Mixed, Large Mixed and Extra Large Mixed.
You can also change your box size each week as needed via the customer portal.
How many products do I get?
The range and volume of items varies depending on size.
The Medium boxes contain between 12-14 different items, Large boxes between 14-16, and the Extra Large between 16-18 different items.
What type of produce is included?
These boxes are chosen for you to provide the best value in terms of seasonality and range.
Each week you'll get the staples including Potatoes, Carrots, Mushrooms, Baby Spinach, Apples and Bananas.
You'll also get a mix of in season produce grown on our farm and from other certified organic farms.
Can I add extras?
Absolutely!! Most people find these boxes as a great starting point and then add and remove extras as needed week to week.
Favourite extras include eggs, bread, fermeneted foods and extra fruit and veg.
You can add extras during the inital checkout, or add them via your customer portal at any time.
Be sure to add or remove extras by 5pm Tuesday or Wednesday to have this reflected on your order for the delivery on Thursday/Friday.
Check our delivery schedule for order cut off times.
If you're keen to add or remove bread please do so by 10am Tuesday or Wednesday - our lovely bakers create these little sourdough loaves to order and due to the 36 hour fermentation process we need to ensure we order by lunchtime :)
How often does the contents change?
The lists of whats in the boxes gets published and updated weekly.
Can I make changes to what's in the box?
These boxes are chosen for you to provide the best in season produce.
You can make up to two swaps each week in the box, by swapping out products for more of what's already in the box. If you want to add extras that are not already in the box, you can opt for our Build Your Own Box or add these items via your customer portal.
Are the lists likely to change?
It's important to note we are working with mother nature and from time to time some produce is unavailable at the last minute.
Should a product become unavailable or limited, we will substitute with a similar item where possible.
Eg, potatoes, hard veg, green veg, leafy greens, fruit.
We do not refund for out of stock items in the boxes and will always give you something as a subsitute of that product in the box.
Can I get a discount?
Yay! For sure!
Save 10% off the retail price of the Seasonal Box by setting up a weekly or fortnightly subscription.