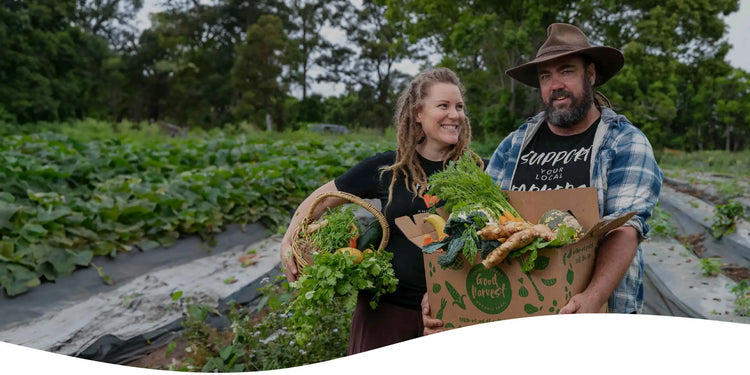 Create your own box from our seasonal produce range
Build Your Own Box
From $88 or subscribe and save 10%
About our Build Your Own Boxes
We are exited to offer a convenient way to bring you the best of the harvest, coupled with exactly what you need each week!

Our Build Your Own Boxes are curated BY you! Choose from a range of produce from our seasonal offerings to suit your family. Ideal for those who:
are meal planning
have little ones that like specific foods
have specific dietary needs
already have an abundant home garden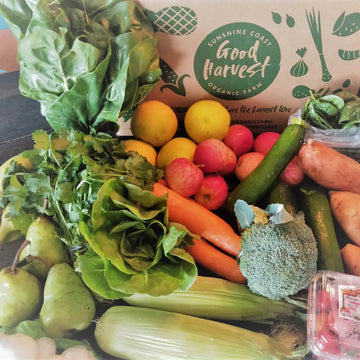 Frequently Asked Questions
What sizes are available in the Build Your Own Boxes?
Our Build Your Own Boxes comes in three sizes, Medium, Large and Extra Large.
You can also change your box size each week as needed via the customer portal.
Simply click into the box to make choices and adjust the size up the top left using the dropdown.
How many choices do I get?
The number of choices depends on your box size:
Medium - 14 choices
Large - 18 choices
Extra Large - 22 choices
How much is in each product/choice?
Choices are either a single produce, eg, bunch of kale, or a number of items, eg, 2 or 3 onions depending size.
As we work with organic produce, we are also subject to the natural size of the produce.
(The supermarkets have worked hard to convince us that things grow the same size and always look perfect, but thats simply not true for organic produce and not helpful to the way nature likes to work - P.S the only way to get produce looking exactly the same is using chemicals and unnatural growing conditions - no thanks!).
This simply means that where a product is listed as 2-3, the size and number changes depending on the size and weight of the produce. If we supply less than the number quoted due to size, we will always provide extra of another item to make up for it.
Why are some items not available as choices?
Some items are excluded from the list of available choices in our Build Your Own Boxes.

The reasons for this will be either due to availability, price or size. For example, some items cannot be split or reduced to ensure the right amount can be provided in a choice.

Some items may be seasonal and limited depending on what is coming from the farm.

The list of seasonal choices changes week to week and some things may come in and out of availability as a choice depending on the time of the season.

If something isn't available as a choice, it will likely be available as an add on extra so you can still get the item - just as an extra on top of the box contents.
Can I add extras?
Absolutely!! Most people find the boxes as a great starting point and then add and remove extras as needed week to week.
Favourite extras include eggs, bread, fermeneted foods and extra fruit and veg.
You can add extras during the inital checkout, or add them via your customer portal at any time.
Be sure to add or remove extras by 5pm Tuesday or Wednesday to have this reflected on your order for the delivery on Thursday/Friday.
Check our delivery schedule for order cut off times.
If you're keen to add or remove bread please do so by 10am Tuesday or Wednesday - our lovely bakers create these little sourdough loaves to order and due to the 36 hour fermentation process we need to ensure we order by lunchtime :)
How often do I need to make my choices?
Choices need to be made weekly to ensure you are getting what you want each order.

If you are ordering a fortnightly box then they need to be made fortnightly.

The box will default to the choices you made the week prior so you will need to remove items or add them on the basis of what you prefer week to week.

The choice window opens from Friday night and the evening of order processing (either Tuesday 5pm or Wednesday 5pm).

That means you can go online anytime between those days and lock in your choices for the week ahead.

We encourage you to do it early so you can be sure of priority if any items are limited.

You will get an email from us to remind you to go online and lock in your choices for the week.
What happens if I forget to make choices one week?
If you don't make your choices by the time your order processes you will get the same products as your previous order.

Please understand that once the order has processed, we are unable to make any changes to your choices for that order.
What if a product I choose is unavailable?
Should a product you choose become unavailable or limited, we will substitute with a similar item where possible.

Eg, potatoes, hard veg, green veg, leafy greens, fruit.

It's important to note we are working with mother nature and from time to time some produce is unavailable at the last minute.

We do not refund for out of stock items in the boxes and will always give you something as a substitute of that product in the box.
Can I get a discount?
Yay! For sure!
Save 10% off the retail price off our Build Your Own Boxes by setting up a weekly or fortnightly subscription.