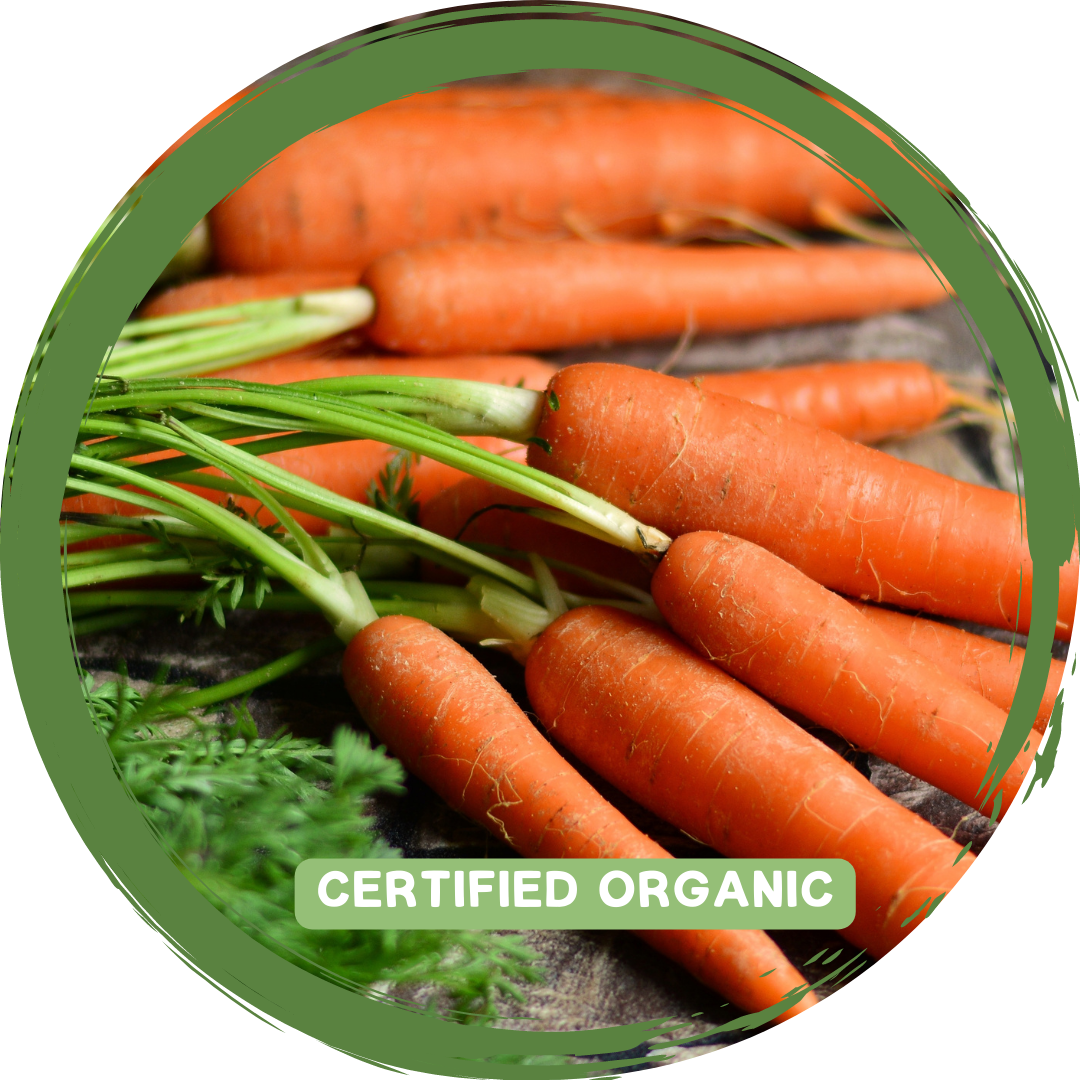 Carrot Bunch - Good Harvest Farm_
Sale price
$7.00
Regular price
Carrot Bunch - Good Harvest Farm_
Sale price
$7.00
Regular price
Product Info
Delivery Information
On the farm!
Delicious and colourful Carrots bunches grown, picked, packed and delivered from Good Harvest Organic Farm. Carrots are crunchy when raw with a sweet or bitter, earthy flavour, they are a great addition to salads, sandwiches, wraps and a perfect and healthy snack. For cooked meals, Carrots add a sweet and savoury taste, creating a wonderful mixed of flavours. Carrots leaves are also edible with an herbaceous, parsley-like taste.
Did you know you can use the green leafy tops? Add them to salads, as a herb turned into pesto, they can be also cooked, good for sauces, pastas and combined with other veggies.  The stem ends can be a little harder therefore are best used for stocks or to add flavour into soups.
As they're part of the carrot, their availability is the same, they're offered during the whole year.
Carrots are available year-round, with peak seasons in the spring and winter.
Nutritional Info & Storage Tips
Being a good source of beta carotene, fibre, vitamin A, C and K1, potassium, magnesium, calcium and antioxidants, Carrots also helps to keep blood sugar levels in control. The leaves have a high content of Vitamin C, carrot leaves are also a good source of Vitamin K, as well as chlorophyll, which is an excellent source of magnesium, good for blood pressure, strong bones, and muscles. They're also a good source of Potassium and Calcium. It is the high amounts of Potassium in the carrot leaves that gives them a slightly bitter taste. Potassium helps control osteoporosis, lower blood pressure, and promote healthy metabolism
Storage Tips: You can store your Carrots in resealable plastic bag or container. Don't wash them, do it when you're ready to eat them, and make sure to remove the tops, though it's possible that they are already cut off.
You could also place them in the fridge, in a sealed container filled with water.
You'll have about a month to enjoy your delicious crunchy Carrots.
Avoid placing your Carrots near fruits, as some produce ethylene gas, causing premature and accelerated ripening.
Delivery charges vary depending location, with a minimum order value of $60.
All deliveries are made Thursdays or Fridays depending your postcode.