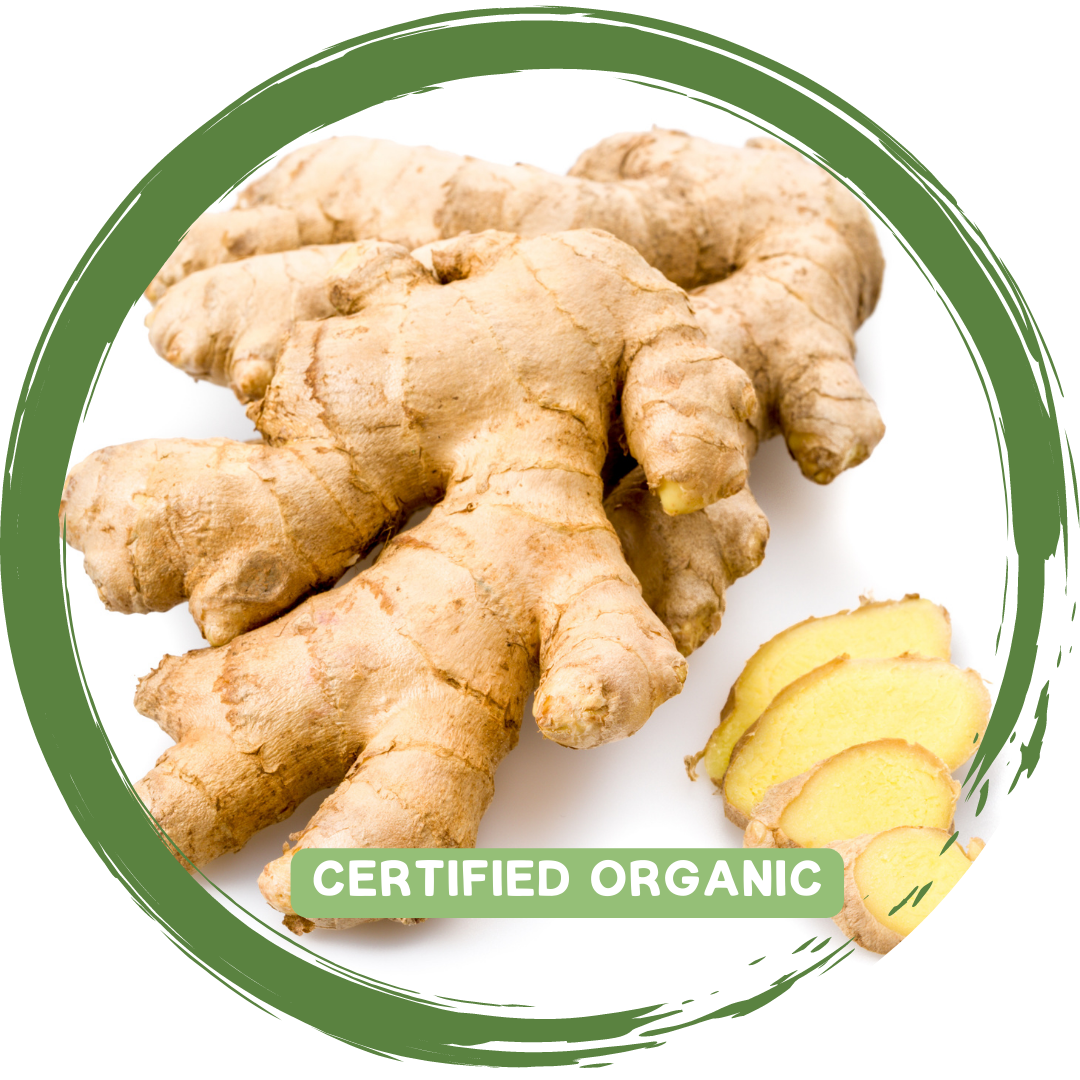 Ginger 200gm - Good Harvest Farm
Sale price
$5.00
Regular price
Ginger 200gm - Good Harvest Farm
Sale price
$5.00
Regular price
Product Info
Delivery Information
On the Farm!
Good Harvest grown Certified Organic
Fresh certified organic, ginger grown, picked, packed and delivered from our farm to your family. Ginger root or simply Ginger, is widely used as a spice, flavouring, food, and medicine, it can be consumed fresh, dried, powdered, or as an oil or juice.
Ginger skin ranges in colour from light to dark tan, and is semi-rough with occasional calluses and rings ridged along the surface.
There are two primary ginger seasons - Early harvesting takes place around February and March where the ginger is younger, with a fresh and slightly milder flavour, ideal for eating raw through salads or pickling etc. The late harvest is carried out in July/August where the ginger is hotter and ideal for cooking. 

Nutritional Info & Storage Tips
The rhizome (underground part of the stem) is the part commonly used as a spice. It's a powerful anti-inflammatory, antibacterial and antiviral; used to aid digestion, reduce nausea, and help fight the flu and common cold.
Fresh ginger should be firm, almost hard, with unwrinkled skin, and possess a strong gingery aroma.
There's no need to peel young ginger before adding it to your food—just give it a good wash and avoid food waste whilst saving yourself some time!
Storage Tips: 
If you're having your ginger right away or within a couple of days, you can leave it on your bench top, otherwise, ensure it is completely dry before storing in the crisper of your fridge. You may also store in a zip-lock bag, again ensure all moisture is removed and try to remove as much air from the bag too. Be sure to check on it sporadically to make sure it's still firm and isn't growing mould. They can be in the fridge up to a month.
Ginger freezes well and can be frozen either whole or grated in to ice cube trays for individual serving portions. 
Recipes
Roasted Broccoli with Ginger

(4-6 servings)

Ingredients:

Method:

640 gm Good Harvest Organic Farm Broccoli (trimmed)

2 tbsp extra virgin olive oil

2.5 cm piece certified organic, Good Harvest ginger washed and grated or finely minced)

generous pinch of kosher salt or sea salt

3 to 4 cloves organic garlic from our Farm (unpeeled, optional)

Preheat the oven to 220C

Line a large rimmed baking sheet with parchment paper and set aside.

Cut the broccoli into medium-sized spears. If there is extra stalk remaining, peel any tough skin with a vegetable peeler or sharp knife, then cut the stalk into chunks.

Place the broccoli on the prepared baking sheet and drizzle evenly with the olive oil. Add the ginger, a generous pinch of salt, and the garlic cloves (if using). With clean hands, toss the broccoli until it is evenly coated with the oil and ginger.

Roast the broccoli in the preheated oven for 12 to 15 minutes, turning once, until the broccoli is tender but still crisp, and beginning to caramelize.

Transfer the broccoli to a serving platter. If you roasted some garlic cloves, squeeze them from their skins and dab the roasted garlic onto the broccoli.

Or, serve the whole cloves alongside the broccoli for anyone who wants to add it to their portion. 

Enjoy!
Delivery charges vary depending location, with a minimum order value of $60.
All deliveries are made Thursdays or Fridays depending your postcode.