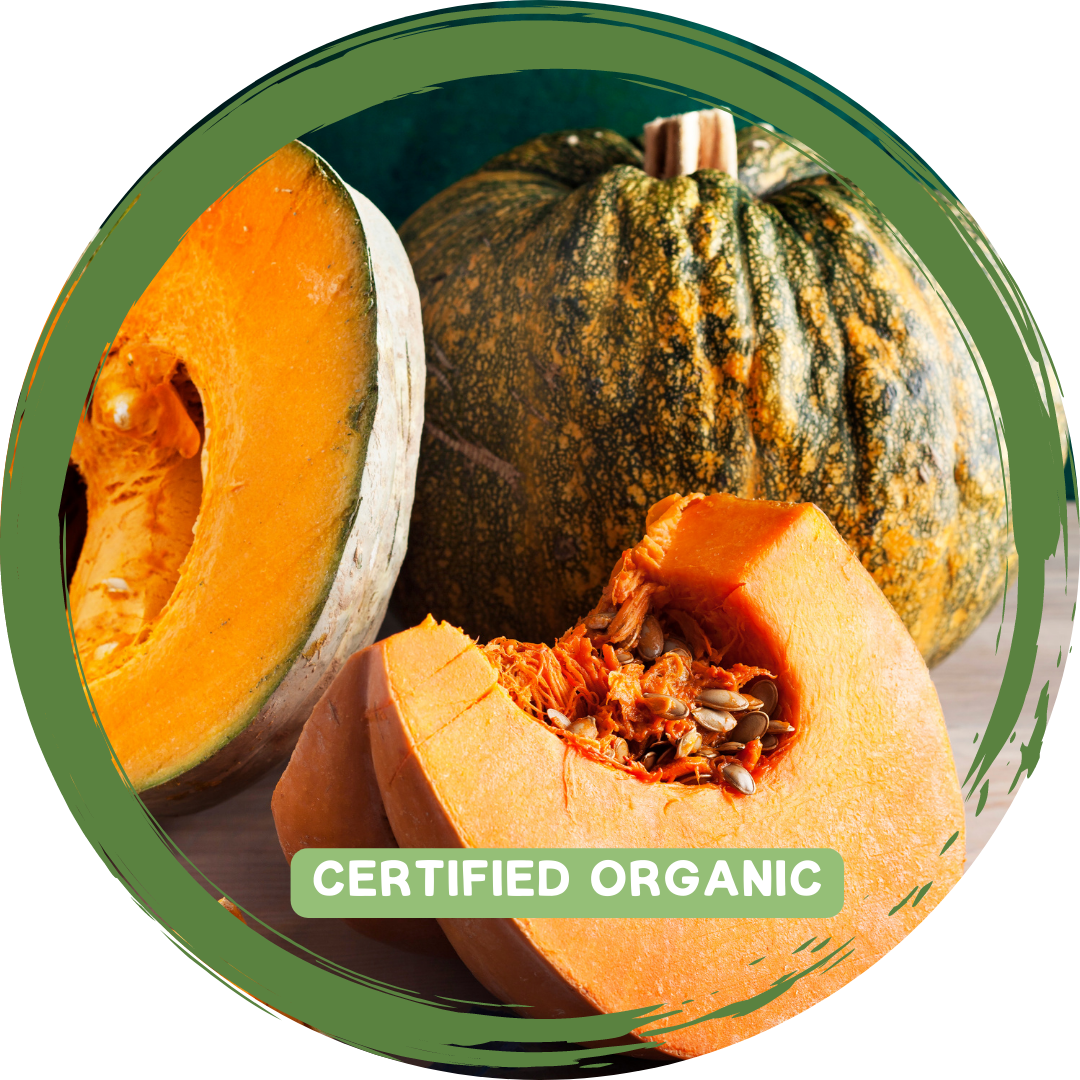 Pumpkin Jap Piece- Certified Organic
Sale price
$6.00
Regular price
Pumpkin Jap Piece- Certified Organic
Sale price
$6.00
Regular price
Product Info
Delivery Information
On the farm!
Certified Organic*
Flavourful Certified Organic Jap Pumpkin. Suitable for both sweet and savoury dishes. The rind is ribbed, textured, firm, and thin, sometimes covered in a powdery coating. Underneath the rind, the flesh is dense, bright orange-yellow, and has a drier consistency, encasing a small central cavity filled with ivory seeds and stringy fibers.
These pumpkins develop a smooth, creamy, and soft texture when cooked and have a rich, sweet, and subtle, spice-like flavour. Baked, boiled or steamed, Jap Pumpkins are great to serve in quiches, salads and as a side.
Jap pumpkins are available year-round, being autumn the peek season.
 Nutritional Info & Storage Tips
Jap Pumpkins are a good source of beta carotene, fibre, potassium and vitamins C and E. They're full of antioxidant that strengthen the immune system, reduce inflammation, and boost collagen production within the skin.
Your delicious Jap Pumpkins are naturally protected by their thick rind and will keep 1 to 3 months when stored in a cool and dry place, without cut it them.
Keep them under cover but with a good airflow around them and don't store them near apples, pears or other ripening fruit. The ethylene gas the fruit gives off will hasten the deterioration of your pumpkins.
If you have more than one pumpkin to store, leave space between them, if their skins are touching and one goes rotten then the rot will spread more easily to the neighbouring pumpkins.
Regularly inspect your pumpkins, throw out any rotten ones and eat first the ones with broken skin as these will not store for long.
Recipes
Pumpkin and Ginger Soup
Soup is the song of the hearth... and the home." - Louis P. De Gouy
There's just something so comforting about pumpkin soup. Is there ever a wrong time to enjoy a healthy serving of pumpkin soup? Great for lunch at the office, an entre for dinner guests or cozying up on the couch with a warm bowl in hand for dinner - there is just so much to love about this dish. 
We  adore this soup-er delicious recipe which adds the zing of ginger for a new take on the traditional pumpkin soup. You can mix up your herb garnishes for different flavour combinations too - we love adding a handful of fresh chopped coriander and a good serve of fresh cracked pepper on top. 
INGREDIENTS

1 kg pumpkin (feel free to use a mix of pumpkin varieties)
2 shallots
75g ginger
a few sprigs of fresh herbs , such as chives, mint
extra virgin olive oil
1 litre organic vegetable stock
125 ml coconut milk , plus extra to serve
1 lime
½ tablespoon chilli powder
METHOD
Deseed and roughly chop the pumpkin, peel and chop the shallots, then peel and finely grate the ginger. Pick and finely chop the herbs.


Place the pumpkin, shallots, ginger and some oil in a large saucepan and sauté until soft.


Add the stock, coconut milk and chilli powder. Season, then bring to the boil and simmer for 40 minutes.


 Blitz in a food processor then serve with the fresh herbs, lime juice and a splash of coconut milk.
GOOD HARVEST TIPS
Have a bit more time on your hands and want to add an extra layer of depth to your soup? Roast the pumpkin before hand with garlic, olive oil, coriander and a sprinkle of chilli seeds.

Feeling adventurous? Add fresh chopped coriander to garnish along with mint and chives. 

Want to add a little protein? Place some finely sliced prosciutto in the oven to crisp up and place that crispy goodness on top. 

Make your own croutons to garnish, awesome for using stale bread, simply tear apart into bite sizes chinks, drizzle with olive oil and roast in the oven until crisp.

Prefer it a little more tart? Add a dollop of sour cream instead of cream as a garnish.
Delivery charges vary depending location, with a minimum order value of $60.
All deliveries are made Thursdays or Fridays depending your postcode.