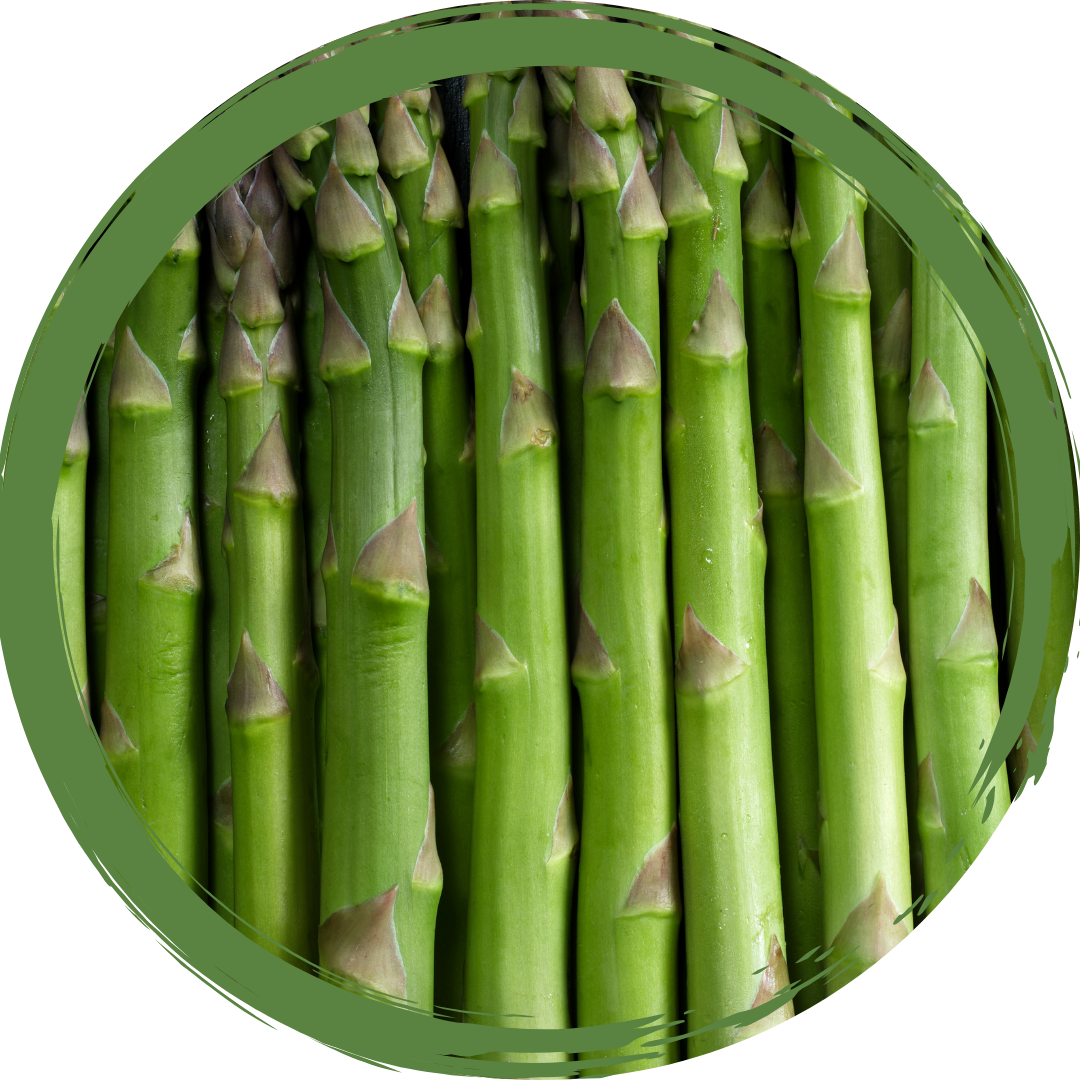 Asparagus Bunch - Certified Organic
Sale price
$7.00
Regular price
Asparagus Bunch - Certified Organic
Sale price
$7.00
Regular price
Product Info
Delivery Information
On the farm!
Spring means Asparagus! Australian Asparagus is much loved for its luscious eating quality. It's also amazingly versatile. Grilled or pan roasted spears are a delicious way to start the day while boosting our veggie quota.
Did you know over 95% of all Australian Asparagus is grown in Victoria? 

Asparagus is super versatile lending itself to most cooking methods including; Grill, BBQ, Stir-fry, Microwave, Oven roast, Blanch, Steam, Boil, Pickle and even raw!
Seasonality:
Australian asparagus is available from September to March with most Australian Asparagus produced during spring between September and November. 
Nutritional & Storage Tips
The nutrients in asparagus can support heart and bone health, while the folate and iron that it contains may be especially beneficial during pregnancy.
Asparagus is rich in folate, also known as vitamin B-9. This nutrient plays an essential role in cell development.
Folate is an essential nutrient, and it is especially important at times of rapid growth, such as during gestation, infancy, and adolescence.
Folate may also reduce the risk of depression, according to a scientific article published in 2008.
It may do so by preventing too much homocysteine from forming in the body. Homocysteine is an amino acid that can block blood and nutrients from reaching the brain.
If too much homocysteine is present, it may also interfere with the production of the feel-good hormones serotonin, dopamine, and norepinephrine. These hormones regulate mood, sleep, and appetite.
Using folate to manage homocysteine levels may reduce the risk of stroke, according to research reviewed by the Office of Dietary Supplements (ODS).
Asparagus contains fiber, potassium, and antioxidants, all of which may promote heart health.
Fiber
Authors of a 2017 review found that people who consume a high fiber diet appear to have lower blood pressure and less low-density lipoprotein, or "bad," cholesterol in their blood.
A cup of asparagus can provide around 10% of an adult's daily fiber needs
Potassium
The American Heart Association(AHA) urge people to reduce their consumption of added salt, or sodium, while increasing their intake of potassium, as this can help manage blood pressure and reduce the risk of cardiovascular disease.
Antioxidants
The body naturally produces toxic molecules known as free radicals, and if too many build up, they can cause damage. Cardiovascular disease may be one result of this.
The antioxidants in asparagus — including beta carotene, tocopherol, and selenium — may contribute to cardiovascular health because antioxidants may combat free radicals.
To store:
Stand the asparagus up in a glass or jar with about an inch or two of water, making sure all the ends are sitting in the water. We've found that a 2-cup measuring cup is a great container. Loosely cover the asparagus with a plastic bag and store in the refrigerator for up to a week. 
To prep: Cut off the bottom inch of the woody stem.
To cook: Roast or grill spears with olive oil and salt. It's also delicious raw in salads or lightly steamed.
To freeze: Blanch small spears 2 minutes, medium spears 3 minutes, in a pot of boiling salt water. Dunk into ice water for 2-3 minutes. Drain and then pack into Ziplock bags.
Recipes
Asparagus and poached eggs – perfect for breakfast or a light lunch or a starter.

Ingredients
2 bunches asparagus
2 tsp vinegar
4 fresh eggs
25g (1/3 cup) finely grated parmesan
Method
Step 1
Bring a large frying pan of salted water to the boil over medium-high heat. Add the asparagus and cook for 2-3 minutes or until bright green and tender crisp. Use tongs to transfer the asparagus to a plate. Cover to keep warm.
Step 2
Add the vinegar to the water in pan. Reduce heat to medium-low. Crack 1 egg into a small bowl. Use a spoon to stir the water to make a whirlpool. Carefully pour the egg into the centre of the whirlpool. Cook for 4 minutes for a soft yolk or until cooked to your liking. Use a slotted spoon to transfer to a plate. Cover with foil to keep warm. Repeat with remaining eggs.
Barbecued asparagus with lemon, feta and mint
Ingredients
1 lemon
2 tbsp extra virgin olive oil
4 bunches asparagus
100g marinated feta
½ cup min leaves
25g (1/3 cup) toasted, flaked almonds
Method
Step 1
Preheat a barbecue or chargrill on medium heat. Use a zester to remove rind from lemon. . (Alternatively, using a vegetable peeler, peel rind from lemon. Use a small sharp knife to remove white pith from rind. Cut rind into very thin strips.) Juice lemon.
Step 2
Whisk lemon juice and 1 ½ tablespoons of the oil in a small jug, season with salt and pepper.
Step 3
Drizzle remaining oil over asparagus. Cook asparagus on grill, turning, for 3 minutes or until bright green, tender crisp and slightly charred. Transfer to a serving platter. Drizzle over lemon dressing. Sprinkle with lemon zest, feta, mint and almonds. Serve immediately.
Ricotta and asparagus tarts
Top crisp, filo pastry with asparagus and smooth ricotta for a quick and easy weeknight meal or as a tasty lunch when unexpected visitors pop by.
Ingredients:
16 sheets filo pastry
500g smooth ricotta
1/2 cup (40g) finely grated parmesan
2 garlic cloves, crushed
2 Coles Australian Free Range Eggs
1 lemon, zested, juiced
3 bunches asparagus, woody ends trimmed
Extra virgin olive oil, to serve
Halved mixed medley tomatoes, to serve
Baby rocket leaves, to serve
Method:
Step1:
Preheat oven to 180C. Line 2 baking trays with baking paper. Place 1 filo sheet on a clean work surface. Spray with olive oil spray. Top with another filo sheet and spray with oil. Continue layering with 6 more filo sheets to create a stack. Place on a tray. Repeat with remaining filo to make another stack
Step 2
Combine ricotta, parmesan, garlic, eggs and lemon juice in a bowl. Season. Spread evenly over filo, leaving a 3cm border. Arrange asparagus over ricotta mixture. Fold filo edges over the border.
Step 3
Bake, swapping trays halfway through cooking, for 15-20 mins or until golden brown and ricotta is heated through. Sprinkle with lemon zest and drizzle with oil. Season. Serve with tomato and rocket leaves.
Asparagus & Avocado hummus bagels
Ingredients
2 bunches asparagus, woody ends trimmed
4 bagels, split
125g haloumi, cut into slices crossways
Avocado hommus
1/2 tsp ground cumin
1/2 tsp smoked paprika
1 large ripe avocado, peeled, stoned
400g can chickpeas, rinsed, drained
2 tbsp lemon juice
1 tbsp tahini
Chermoula
1/4 cup coriander, finely chopped
1/4 cup flat-leaf parsley, finely chopped
2 tbsp olive oil
1 tbsp lemon juice
1 garlic clove, crushed
1 tsp Moroccan seasoning
Method:
Step 1:
To make the avocado hommus, toast the cumin and paprika in a small frying pan over medium heat for 1 min or until aromatic. Transfer to a food processor. Add the avocado, chickpeas, lemon juice and tahini and process until smooth. Season to taste.
Step 2:
To make the chermoula, combine the coriander, parsley, oil, lemon juice, garlic and Moroccan seasoning in a small bowl. Season.

Step 3:
Preheat a barbecue grill or chargrill on high. Add the asparagus and cook, turning, for 2-3 mins or until lightly charred. Transfer to a plate. Toast the bagels, cut-side down, on the grill for 1 min or until toasted.

Step 4:
Cook the haloumi on the grill for 1 min each side or until charred. Transfer to a plate. Place bagels on serving plates. Spread with avocado hommus. Top with haloumi and asparagus and drizzle with chermoula.

#recipes courtesy of Taste.com.au 
Delivery charges vary depending location, with a minimum order value of $60.
All deliveries are made Thursdays or Fridays depending your postcode.