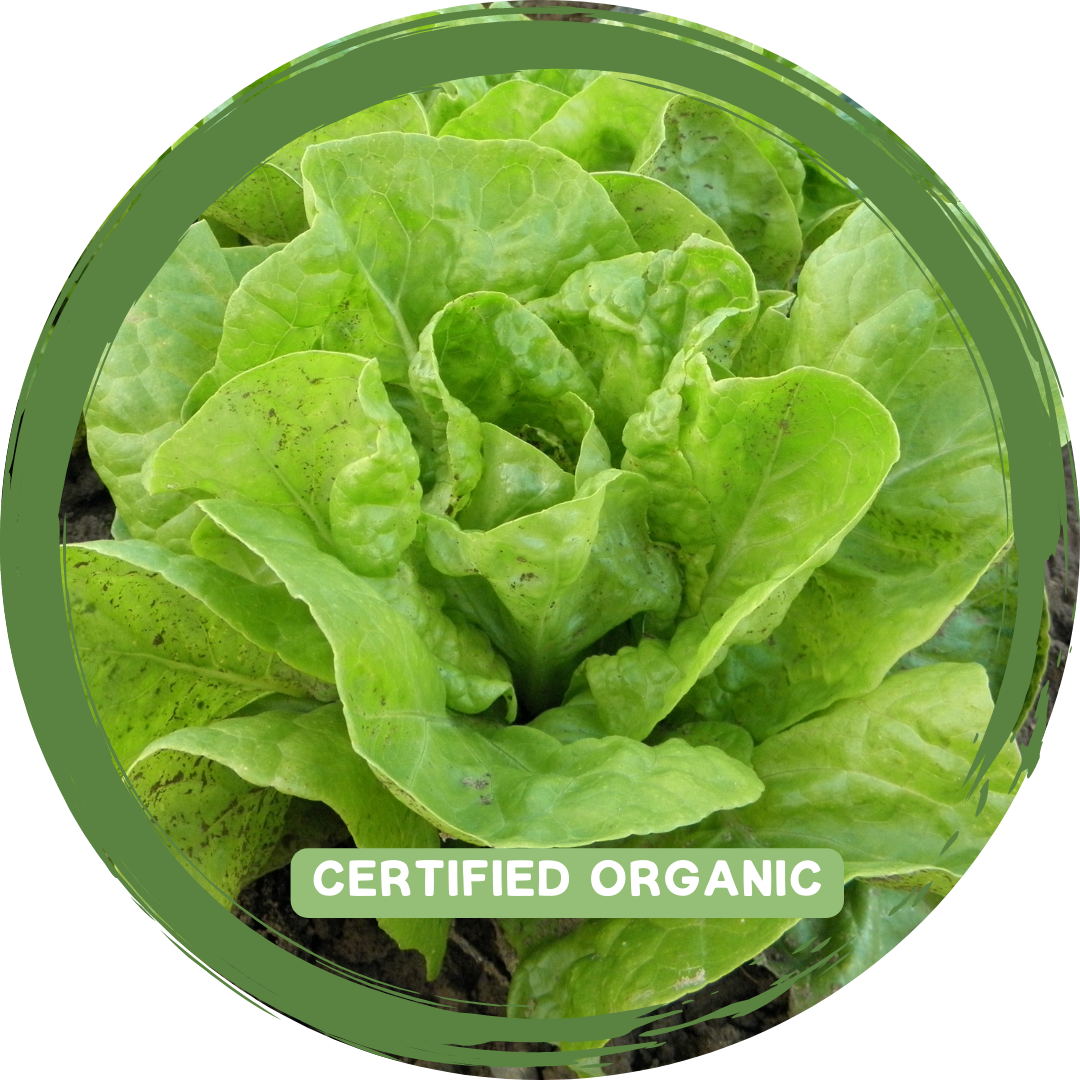 Cos Lettuce - Good Harvest Farm
Sale price
$6.00
Regular price
Cos Lettuce - Good Harvest Farm
Sale price
$6.00
Regular price
Product Info
Delivery Information
On the farm!
Good Harvest Farm, Sunshine Coast grown, picked, packed and delivered from our farm to your family. 
Fresh and crispy Cos Lettuce grow, pick, pack and deliver, from our farm to your family. The outer leaves of the Cos Lettuce are dark green with a prominent white central rib, and as the leaves grow smaller in the centre, they become paler in colour almost fading to white. Cos Lettuce is crisp, succulent, and crunchy with a mild, slightly bitter taste. Great option for dips or as a base/plate for salads.
Also known as Romaine lettuce, Cos lettuce is one of the few varieties that grow upright, is tolerant of heat, and is commonly sold in whole heads.
Cos lettuce is a cool season crop with peak season in the winter.
Nutritional Info & Storage Tips
Having high amounts of vitamins A, C, and K, thiamin, folate, iron, calcium, phosphorous, magnesium, and potassium, it's also naturally low in sodium.
For a whole head, do not wash until you're ready to use it, just remove any damaged or wilted outer leaves. Store in an airtight container in your fridge with a piece of kitchen paper to absorb excess moisture. You'll have about three weeks to enjoy it.
Whole heads stay fresher much longer than chopped pieces or individual leaves.
If you're storing individual lettuce leaves, spin them dry after washing and place in a lettuce keeper in the fridge. A container is best to avoid bruising and bacteria build-up. You can also use a plastic bag if you keep a corner open for airflow, or you can store them stem-less and wrapped in a paper towel in the crisper drawer. Make sure to add a few paper towels to absorb excess moisture and replace the paper towels every few days if they get too damp.
Make sure to keep your lettuce away from ethylene fruits (like pears, avocados, apples and tomatoes) because they release gas as they ripen, which causes other produce to age prematurely.
Recipes
Raw Rainbow Boats
Ingredients
1

 

cup

 

halved cherry tomatoes

1/2

 

cup

 

alfalfa sprouts

1

 

cup

 

finely shredded carrots

 

(You can use a mandolin with the medium-tooth blade or a grater works just as well)

3/4

 

cup

 

thinly sliced red cabbage or green if you have this available

1

 

medium

 

ripe avocado

 

(cubed)

1

 

Tbsp

 

hemp seeds

 

(optional)
Sauce

1/3

 

cup

 

tahini

 

(to keep this recipe raw, use raw untoasted tahini)

2

 

Tbsp

 

lemon juice

1

 

Tbsp

 

maple syrup

1

 

pinch

 

sea salt

 

(optional)
Water

 

(to thin)
Instructions
Prepare sauce by adding tahini, lemon juice, maple syrup, and salt to a small mixing bowl and whisking to combine. Then add water 1 Tbsp (15 ml) at a time until a pourable dressing is formed. Taste and adjust flavor as needed, adding more salt for overall flavor, lemon for acidity, or maple syrup for sweetness. Transfer to a serving vessel or ramekin or set aside.

Arrange lettuce boats on a serving platter and begin filling with 1-2 Tbsp (15-30 g) hummus. Then top with tomatoes, sprouts, carrots, cabbage, avocado, and hemp seeds (optional).

Either drizzle with tahini sauce or serve on the side. Best when fresh. Store leftover tacos in the refrigerator up to 3 days (be sure to add lemon or lime juice to avocado to help it from turning). Tahini sauce will keep for 4-5 days.
Recipe and image courtesy of https://minimalistbaker.com/ 
Taco Boats
Ingredients
1 tbsp olive oil
1 lb lean ground turkey or protein of choice
2 cloves garlic, minced
1 cup of diced tomatoes
1 tbsp chili powder
1 tsp ground cumin
½ tsp cayenne pepper, more or less to taste
Salt and pepper, to taste
Cos lettuce leaves, for serving
Optional toppings: shredded cheddar or monterrey jack cheese, diced onions, fresh tomatoes, sour cream, fresh coriander or green onions
Avocado - diced, smashed or made in to guacamole 
Heat olive oil in a large nonstick skillet over medium high heat. Add ground turkey and garlic, breaking up chunks, and cook until browned, about 5 minutes.
Stir in diced tomatoes, chili powder, cumin, and cayenne pepper and let simmer until the sauce is thickened, 10 to 15 minutes. Season with salt and pepper to taste.
To serve, spoon turkey mixture into individual lettuce leaves with desired toppings.
Broccolini and cos salad with pancetta, sourdough and almond crunch
Ingredients

1/4 cup (60ml) extra virgin olive oil, plus extra to drizzle
150g white sourdough bread, crust removed, cut into rough 1cm pieces
200g flat pancetta, cut into lardons
1 bunch broccolini, blanched, refreshed, florets separated, stems chopped
Juice of 1 lemon
1/2 bunch mint, leaves picked
1 bunch flat-leaf parsley, leaves picked
1 eschalot, finely chopped
2 anchovies in oil, drained
1 garlic clove
3/4 cup (60g) finely grated parmesan
1 cos lettuce, leaves separated
1 green apple, thinly sliced
30g roasted whole blanched almonds, chopped
1. 

Preheat oven to 180°C. Place bread in a roasting pan, drizzle with olive oil, season. Bake, tossing occasionally, for 10-12 minutes until golden and crisp. Set aside.




2. 

Place pancetta in a large, cold, non-stick frypan over medium heat. Cook, stirring occasionally, for 6-8 minutes until fat has rendered and pancetta is crispy. Remove pancetta from the pan, reserving the fat, and set pancetta aside.




3. 

Add broccolini stems to the pan and cook in pancetta fat for 2-3 minutes, stirring, until lightly coloured and tender. Remove from the pan and cool slightly, then place in a blender. Add the lemon juice, olive oil, herbs, eschalot, anchovies, garlic and parmesan and whiz to a smooth paste. Season to taste.




4. 

Spread broccolini and herb cream on a serving dish. Arrange lettuce, blanched broccolini tops, apple and crispy pancetta on top. Scatter with the roasted almond and sourdough croutons to serve.                                      Recipe and image courtesy of https://www.delicious.com.au/ 
Delivery charges vary depending location, with a minimum order value of $60.
All deliveries are made Thursdays or Fridays depending your postcode.